I hope everyone had a nice weekend. Mine was really nice but it just went by way to quickly. Funny, seems like all my days go by too fast. If only I could stitch that quick, I'd have a whole lot of projects done by now instead of a large "stash".
Take a peek below to see what wonderful new designs will be arriving soon.
From Cross-Point Designs
A very patriotic sampler.
Let Freedom Ring
From Imaginating
My favorite of these designs is the Scarlet Tanager. He is "fluffy" just like me. (ha ha)
Laughing Gulls Scarlet Tanager
Tic Tack Summer
From Stoney Creek
Santa and his snowman friends...cute!
Santa Claus Lane
From Death by Thread
Bee Awesome
Sunflowers Grow
From Artful Offerings
Bee Farm
From Plum Street Samplers
Three wonderful new samplers. John & Abigail is a follow-up to George & Martha, released last year. John Adams, our second president, had a fondness for gardening, which is why he's holding a gardening tool. American Sampler was originally released during the Dyeing to Stitch retreat in Virginia Beach last April, and will now be available to the public.
American Sampler John & Abigail
Serial Bowl Collection: Lesson Five
Lesson Five
is the last of the
Sampler Lessons
series
in the
Serial Bowl Collection
!
From Amy Bruecken
Three very fun (and truthful) designs from Amy.
Many Flakes a Family Makes!
Bee Happy or Bee Quiet I'd Rather Bee Stitching
Lizzie Kate's New Summer Mystery Sampler...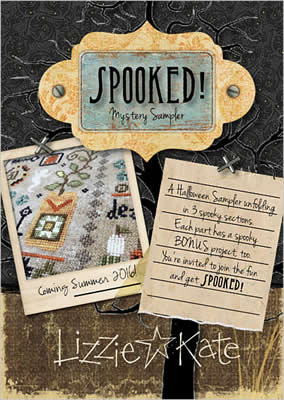 SPOOKED!
The design will come in 3 installments, starting in mid-June (then mid-July & mid-August). It is stitched on 32 Ale from Picture This Plus, but is also available in 28ct, 16ct or 14ct. There will be a thread pack containing 13 Weeks Dye Works overdyed fibers (1 of which will be a new color, not to be released individually until later this year), and an embellishment pack which includes: 5 JABCO buttons, tiny black and cream buttons, a triangle "beak" button, and olive/gold beads.
In addition, each chartpack will contain a bonus design
.